Lang'ata based policewoman opens up on the frustrations she is facing. She starts by saying that it all started when she was 7 months pregnant. Whereby she is expected to work everyday with her uniform on. Which is something that she couldn't manage to do since she was sickly (pregnancy complications). The OCS, which she says is a new one, not even two weeks old in the station claimed that they have been looking for her at her house and they did not find her even a single day. Yet for her she has been in her house all day.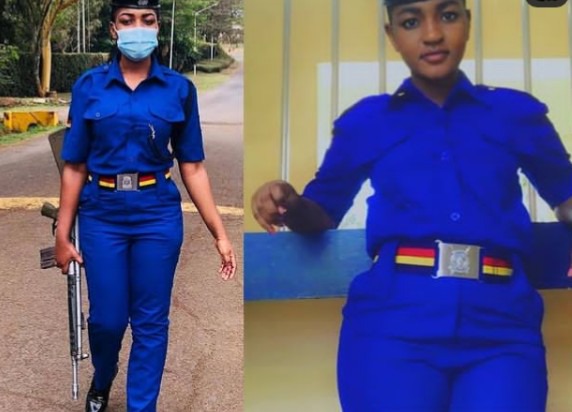 Photo courtesy
She later gets summoned personally by the OCS, to which she presented herself, and gets summoned that she should get to work with immediate effect. Something that she obeyed in West Park Police Post which is still under Lang'ata. The following week the duty roster had changed without her knowledge and she had been deployed back to Lang'ata which is the main station. So everyday she wakes up and goes to West Park not knowing that she is supposed to be working at Lang'ata main station. 4 weeks down,she gets called by the records personnel telling her that a disciplinary action has been taken against her for the four weeks for absenting herself to work at the West Park and that absent without official leave has been sent to her.
She gets summoned by the OCPD. Who claimed not to know her or if she is pregnant which is true because they were all new at the station. At 7 months pregnancy the OCS claims that her belly is too little and that she is even wearing 'tumbo-cuts' so her tells her that he will talk to the OCPD and decide where comfortable since they will deploy her of her duties. She gets a call on the next day from the OCPD and tells her that they have decided that she will be working at the customer care desk ( and that is to sit at the gate with a thermo gun and take temperatures of every car that comes in) remember Lang'ata is a busy station.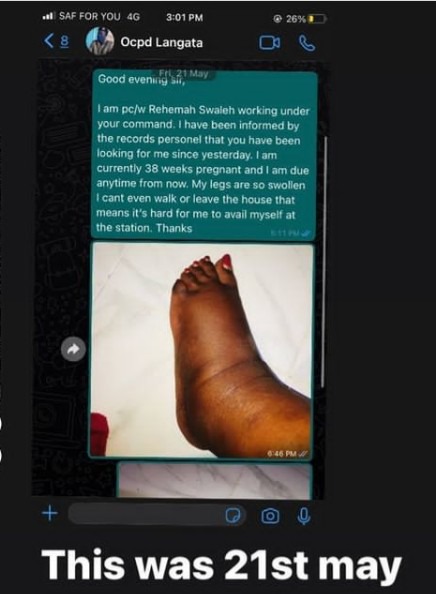 Photo courtesy
She works and gets to nine months pregnancy and her legs extremely gets swollen that she can't even walk. She again receives a call from the same records lady that the same OCPD has ordered that she be deployed at the station and that he wants to be seeing her everyday. Because he had ordered for another disciplinary action to be taken against her. She doesn't have a choice but she sends the OCPD a short text and a pic to explain her condition. She later luckily receives her bundle of joy on 2nd of June, sadly through an emergency C-section. Whereby she gets discharged on 6th, which is a Saturday.
She later sends her birth notification so that a maternity leave can be processed for her. Which she sent through her colleague and the OCS Lang'ata chief Inspector William Matu refuses that no leave is to be granted to her. The reason being that she didn't deliver it herself. Whereby she has a wound that she can't even walk well. She later gets the shock of her life after a deserter gets sent to her. Which means that her salary is going to be stopped. "Mr OCPD Lang'ata and OCS what do you want from me?" She questions frustrated.