Looks like there is a number of unknown individuals that have decided not to give COTU Sec Gen Francis Atwoli no peace ever since he installed his road sign post in Kileleshwa.
Photo courtesy
At first, when installing it, it was an event that got witnessed by many and even got media coverage, something that Atwoli himself attended to witness the installation. A day after the event, the road sign was found Uprooted. Something that made Atwoli angry and he took to his social media and expressed his frustrations concerning the matter. It got installed once more by the police and after the installation, they had to put CCTV cameras just in case someone would try to do the same.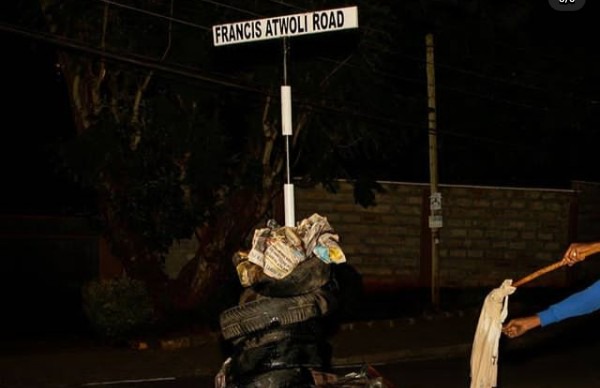 Photo courtesy
Seems like the locals are not getting tired of rebelling towards the road sign, despite the CTV camera being there, photos have emerged of the road sign being burnt to ashes by some unknown individuals. Something that has raised mixed reactions, since clearly there are those that never wanted it be there from day one.