Safaricom will be refunding its customers all the data they used on Friday and Saturday. The company announced this saying it is part of its 18th anniversary and is dubbing this "Asante Data Sunday". If you have been using mobile data, you can check how much data you have accumulated by dialing *444*20#. I have checked and so far I have accumulated over 2.8GB which I got back.
No matter how much data you get back, you may want to maximize it so that it does not get used on unimportant things. Below are some of the tips you can employ to make sure you get the most out of the bonus data you get from Safaricom. These tips are important if you do not want to run out of data even before its 1PM.
Note: The data bundle given back takes priority over any other data package that you may have.
Disable App Updates on Mobile
Unless you have an app that does not work well or has bugs or security issues, you can always update it later. If you have the bonus data from Safaricom, you should not use it to update your apps unless you have more data than you need.
You can prevent apps from auto updating on mobile data through the Google Play Store. To do this, open the Play Store and tap on the menu icon on the top left corner. Tap on the settings icon on the left corner of the screen and then tap on Auto-update apps. From here, you can choose to update apps over Wi-Fi only.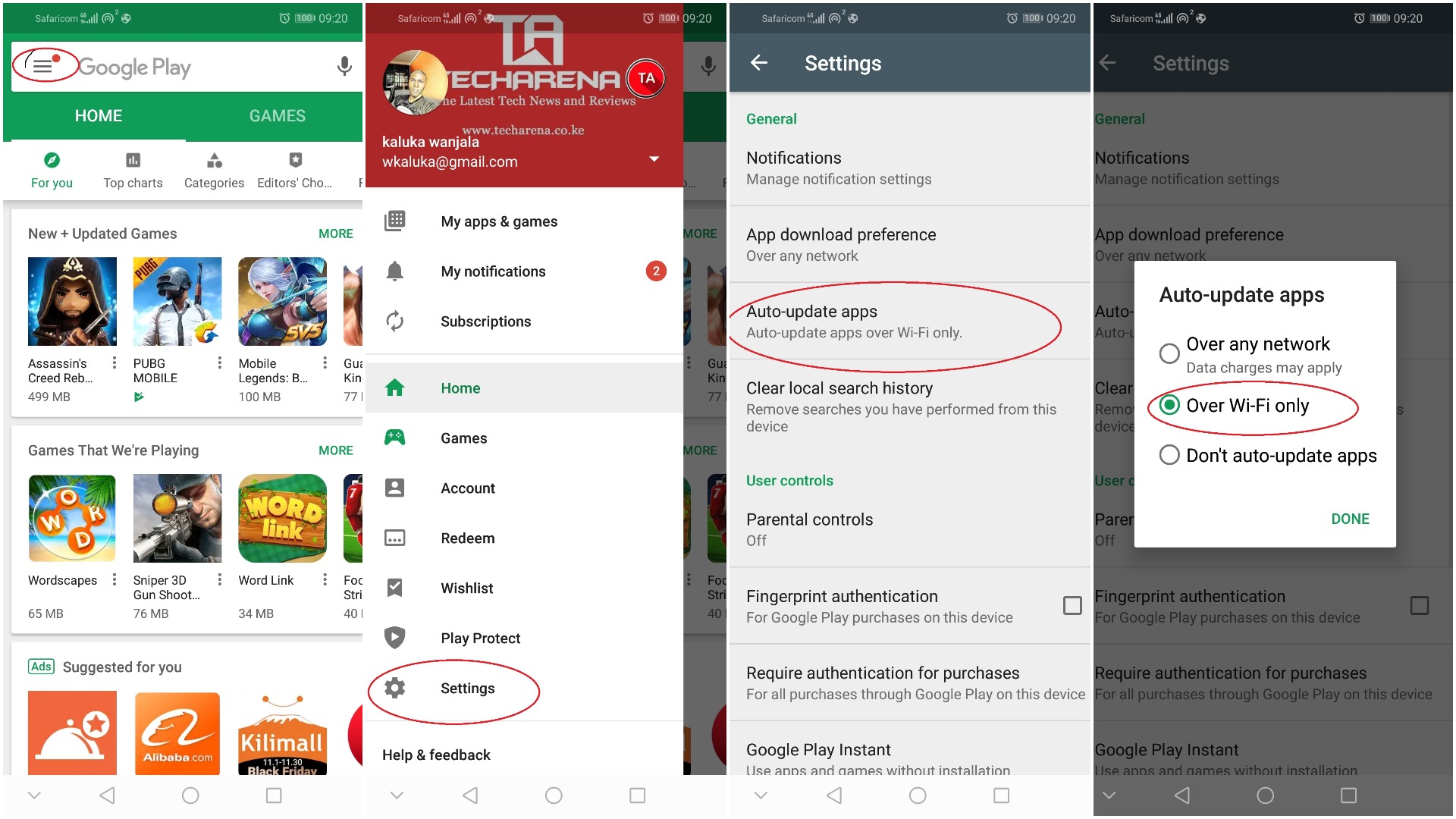 Avoid Tethering
Still on Wi-Fi, one other way to prevent your data from running out fast is to avoid tethering unless you really have to. Creating a W-Fi hotspot is an easier way to connect your devices to the internet but can be very costly if you are connecting to a laptop, smart TV/Android box or any other data hungry gadget. Accessing websites on your laptop/desktop means that the full website with all images and videos may be loaded and this can consume most of your data.
If you really have to tether, you may want to disable some features such as ads or images that may consume some of your data. You can use an ad blocker if you are visiting a site with a ton of ads as they can use up most of your data without you knowing. For images, if you really don't need them on the site and have very limited data, just prevent them from loading under your browser settings (content settings) section.
Stop Videos From Auto-playing
If you are planning to use some of your favorite social networking sites, Facebook, Twitter, Instagram etc, you may want to prevent videos from auto playing. Facebook and Instagram are already data hungry apps and you should make sure they do not go overboard and use all your bonus data.
On Facebook, tap the hamburger menu (the three lines on the top right section) and scroll to the 'Settings and privacy' section. Tap on 'App settings' and then scroll to find the 'Autoplay' option. From there, you can set videos to autoplay on Wi-Fi only or to never autoplay.
On Twitter, the process is equally as easy, just head to the 'Settings and privacy' section and then tap on 'Data usage'. From here you can set videos to autoplay on Wi-Fi only or to never autoplay. Besides this, there are a number of settings that you can change to keep data usage under control.
On Instagram, go to your profile and tap on the menu icon at the top right section. Scroll to find "Cellular data Use", you can then choose the second option 'Use less data' to make sure the app uses less data.
WhatsApp also has a similar feature that lets you limit data usage when it comes to the videos and photos people send you. Just go to settings and choose 'Data and Storage usage'.
Disable background data usage
Most of the apps you have on your phone use data and some of them even use this data in the background when you are not actively using them. You will have to restrict background data usage just to make sure this does not happen. With this, the app will only use data when it is opened.
Start by heading to Settings >> Network & Internet>>Data Usage>>Mobile data usage to see the apps that have been using most of your data. The exact steps may vary depending on your phone so I would suggest you open settings and search for 'Data Usage' to find the option on your phone.
When you find the apps that are using most of your mobile data, tap on them one by one and look for 'Background data', you can disable it if you do not want that app to use data in the background. Keep in mind that disabling this feature may mean that you do not get some notifications on some apps unless you open them manually.
Set data usage limits
If you have limited data, you may want to set the limit of how much you want to use. I have over 2.8GB of data so if I were to be safe, I would set my limit to 2.7GB so that I can have the extra 100MB just in case I really need to use mobile data later one. Safaricom normally sends you a test when you have 75MB of data remaining but I usually set my limit to something above this just in case.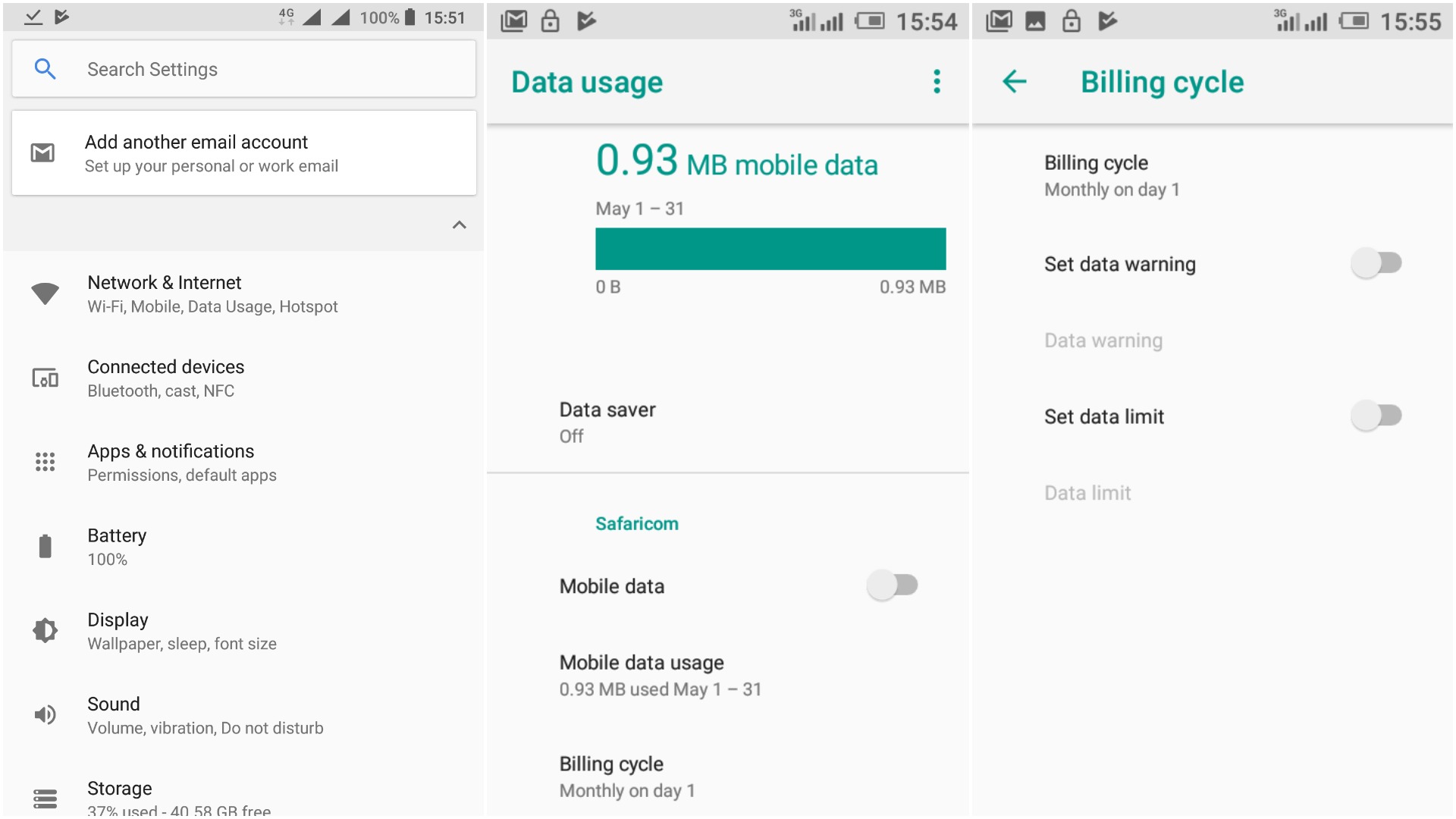 To set your limit, go to Settings and tap on Network & Internet>>Data Usage>>Billing Cycle>>Set data limit. You should also chose to disable mobile data when you go past your limit, this is important to keep things in check as you will have to manually enable mobile data when you want to use it.
Use Chrome Data compression
If you are using Google Chrome, you can use its data compression feature to keep data usage at a minimum. Chrome data compression as the name suggests compresses all data before it is sent to your phone to ensure the pages load up faster and less data is consumed.
To activate this, open Chrome and Tap on the Menu (three dots) on the top right corner then choose stings. From here, tap on Data saver and switch it on and let Chrome to the rest for you.