A young mother of two has taken to her social media to narrate the nasty ordeal of what happened to her two year old daughter. She first starts by narrating how 3 men dressed in black coats with hats and masks on their faces attacked them at night after pretending to be police officers.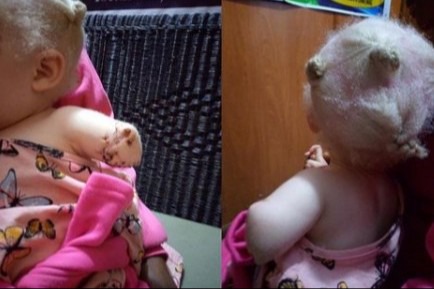 Photo courtesy
They later pointed a gun at her just in case she thought of asking for help. As they held her, she heard her second child screaming and her older son shouted that they are cutting the hand of his small sister. The men later released her after cutting the hand of her daughter and leaving with it. She found her daughter bleeding profusely and she had to rush her to the hospital.
She further says that she was once a happily married woman and it all changed after she gave birth to her daughter with Albinism. The man filed a divorce and she had to move back to where her mother was in the village where the attack happened. This comes after her husband remarried and when she heard so, she decided to remarry but and it only lasted for three months.She says that her daughter is in a stable condition, although she still feels pain because she lost too much blood. Her elder brother is even more affected by the attack. She still hopes for justice for her daughter.